TIMBERHAVEN UNVEILS BRAND NEW CLEAR CREEK TIMBER FRAME DESIGN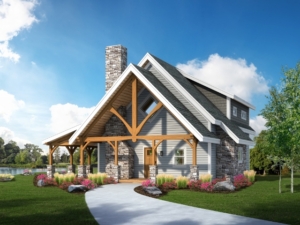 The Clear Creek log cabin design is one of our most popular standard models.  As such, we have decided to unveil its sister design, the Clear Creek Timber Frame.  
Designed for style and efficiency, the Clear Creek Timber Frame design truly complements any lifestyle.  For example:
Talk about curb-appeal! Outside, the wrap-around porch spans two sides of this home. The outdoor space is the ideal location for entertaining with a family BBQ or enjoying the sky's color palette during a vibrant sunrise. Your neighbors will envy your chic front porch with its vaulted ceiling, massive King Post Truss with arched members, eye-catching diamond-shapped window, and trendy timber-stone combo porch columns.  What's not to love about this porch?
Go with the flow! Inside, the floor plan is conducive to a comfortable lifestyle and is laid out in a sensible fashion.  The main living areas – the kitching/dining and living room – flow freely of interior walls. The soaring cathedral ceiling and timber frame framework above make the space appear more grand.  The master bedroom and master bath are conveniently located to the rear of the home.  Two additional bedrooms and a second full bath are housed on the upper level.
Designed for versatility! The Clear Creek Timber Frame design features 1,628 total square feet of living space, 3 bedrooms and 2.5 full baths.  An adorning two-story cathedral ceiling is on display in the living room and kitchen/dining areas, while two moderately sized bedrooms and another bath occupy the second level.
Clear Creek Timber Frame: Design & Package Info
If the Clear Creek Timber Frame design isn't perfect for you, we will work with you to implement design modifications or to create a custom design based on your personal lifestyle. Our packages including nothing but name-brand components such as Andersen, Therma-Tru, Tamko, Hardie Board exterior siding products, Ply-Gem Stone and more.  The timber frame itself is pre-cut, pre-sorted, and inversely stacked which ensures a timely on-site construction process. Delivery is included at NO additional charge anywhere in the Continental US, and our nationwide representative network includes trained professionals who are ready to assist you with your Clear Creek Timber Frame dream home.
To learn more about our new Clear Creek Timber Frame design, or to request a copy of our new timber frame brochure, please contact us today!  +1 (814) 967-2206
Summary
Description
Designed for style and efficiency, the brand-new Clear Creek Timber Frame design truly complements any lifestyle. Be the first to check it out…
Author
Timberhaven Log & Timber Homes