OUTDOOR TIMBER STRUCTURE FOR YOUR OUTDOOR LIVING AREA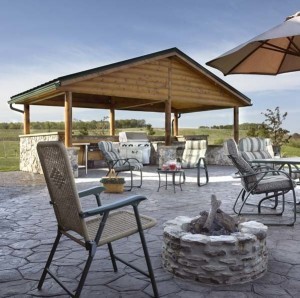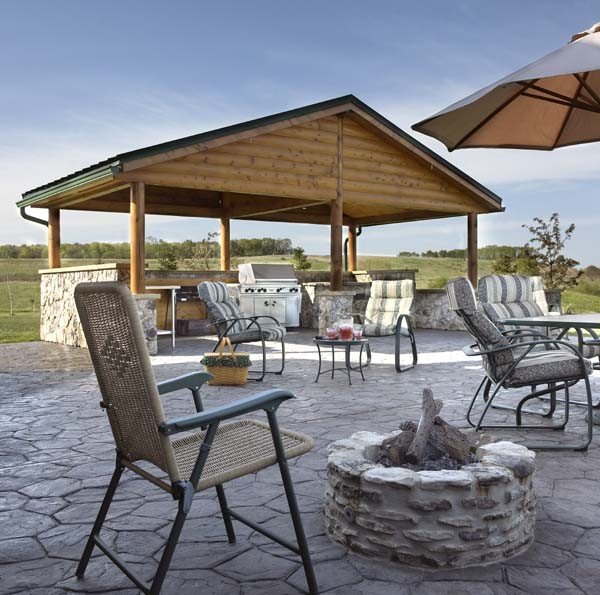 Do you believe that Outdoor LivingAreas are more than a signature phrase?  And Personal Paradise is more than just an expression?  We do, and we think many of you will agree.
Extended outdoor living areas will not only improve a home's value, but more importantly, will promote spending priceless, quality time with family!  Whether the time spent is casually dining, telling stories by the fire, swimming in the pool, the list goes on and on — bringing families together and creating memories that will last a lifetime is a sure-thing when designing and building the perfect outdoor living area.
An outdoor timber structure manufactured by Timberhaven and sold through Morningdale Log Homes will complement and further enhance any outdoor living area.  Structures such as timber frame pavilions, gazebos, and pergolas promote balance between nature and lifestyle and are quickly becoming a must-have backyard feature for both residential and commercial outdoor living or entertaining spaces.
At Timberhaven, we design and handcraft aesthetic and functional outdoor wooden structures that facilitate luxury outdoor living – complete with outdoor kitchen, pool and spa – or even the simplest lifestyles – that include casual, comfortable seating and a simple fire pit.  We offer standard and custom designs, and our materials are second-to-none.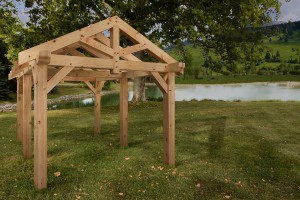 In addition to custom design services and quality materials, our outdoor timber structure packages are complete!  For example, our standard 10' x 14' timber frame pavilion package includes precision pre-cut timbers, wooden pegs that accentuate the authentic timber frame look, metal fasteners where needed, tongue & groove ceiling and 30-year architectural shingles, and more.
Timberhaven's Outdoor Timber Structure Repertoire Includes:
Timber Frame Pavilions
Post & Beam Pavilions
Porticos
Decorative Timber Accents
Gazebos
Porch Trusses
Pergolas
Terrace Roofs
Outdoor living areas are the next big trend and a must-have for conventional and log homes alike. To make the most out of your new personal paradise, contact Morningdale Log Homes  today to discuss your project details and the various ways an outdoor timber structure can further enhance your future space.
/BY BOBBI LANDIS
Copyright 2018, Timberhaven Log and Timber Homes LLC.