ANNOUNCING THE INDUSTRY'S BEST QUALITY ASSURANCE PROGRAMS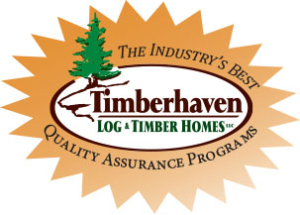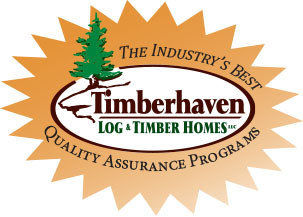 At Timberhaven Log & Timber Homes, we are dedicated to delivering the log or timber frame home of your dreams for a lifetime. That's why we provide complete packages with everything you need to build your desired home. While you'll need to supply items like land, basement, and custom interior components such as cabinetry and flooring, our packages are still one of the most complete in the industry. Because we stand for quality, integrity, and trust, our "Complete" Package Guarantee ensures that we offer accountability that we will supply exactly what we promise we will supply. We also offer a written lifetime warranty on the log and timber products we manufacture. All log homes and timber frame home packages are NOT created equally, so be careful comparing Timberhaven with substandard competitors. We stand behind our word and our products with these quality assurance programs, so you can avoid unpleasant surprises!
Quality Assurance Programs: Complete Package Guarantee
Your new log home or timber frame home is unique, so Timberhaven Log & Timber Homes offers a variety of packages guaranteeing that all needed building materials to construct your new home will be provided in the 'Complete' Package — with the exception of electrical and plumbing systems, masonry, HVAC, floor coverings and drywall, cabinets and countertops, common fasteners, and gutters and downspouts. With our Log and Timber Package, Weather-Tight Package, and Finish Materials packages to mix and match, we offer a variety of packages to ensure you keep your budget and meet your construction needs. Combine all three packages for the assurance that you're getting the most complete log home or timber frame home package available. The time to know what's included in your log home or timber frame home package is before you purchase, not on the job site!
Quality Assurance Programs: Lifetime Warranty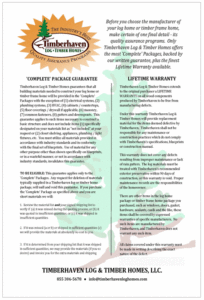 In addition to our Complete Package Guarantee, Timberhaven Log & Timber Homes, LLC extends a limited LIFETIME WARRANTY to the original purchaser for all wood components produced by Timberhaven Log & Timber Homes, LLC, ensuring they are free from manufacturing defects. Under this lifetime warranty, we will provide replacement material for any items deemed defective by Timberhaven Log & Timber Homes, LLC., when maintained properly with exterior preservatives and rain gutter installation.
When it comes to a quality home package, value, efficiency, and design, Timberhaven Log & Timber Homes is so proud of our materials and complete packages that we stand behind our homes with a pledge of high standards backed by the industry's best quality assurance programs. Our personal unwavering commitment is also included with every project.